Cosplay- and Weapons Rules
What would cosplays from action and fantasy series be without their weapons. But unfortunately, some cosplay weapons pose safety risks to other visitors at larger events. This also applies to certain clothing accessories. So that you can plan your cosplay optimally for the Anime Festival Kassel, we have therefore put together some tips for you. Should you have any questions concerning this topic please contact us. We are looking forward to your messages!
General information for cosplayers
At the Anime Festival Kassel we are looking forward to seeing you in your cosplays. We do not set any rules on the genre the character should be from. Here you may wear whatever you wish to. At least almost everything. We must inform you about certain matters, for you to be able to enjoy the event.
Costumes may not contain any sharp edges. In case of studded bracelets or chokers the spikes may not exceed a length of 5 cm and must to be blunt.
Please ensure that protruding elements of your costume never harm other people or objects. A guideline for wings is a span of 1 m (fixed) and 2 m (flexible) per wing from the middle of your back. Skirts should have a maximum diameter of 2 m. Trains should not exceed a length of 1 m from the end of foot.
Loose metal chains and pieces of armour need to be examined at the weapon check. Therefore we recommend to attach these to your costume.
Make-up or bodypaint may not rub off or leave residue.
Please note that the depiction of certain army uniforms and insignias is prohibited in Germany. Further information regarding this topic: misuse of titles, professional titles || badges and the use of characteristics of unconstitutional organizations.
Cosplays may not be too revealing. The chest, private parts and buttocks must be adequately covered with clothing. This applies to all.
Contamination and damages which arise from using of your cosplay need to be taken care of by you.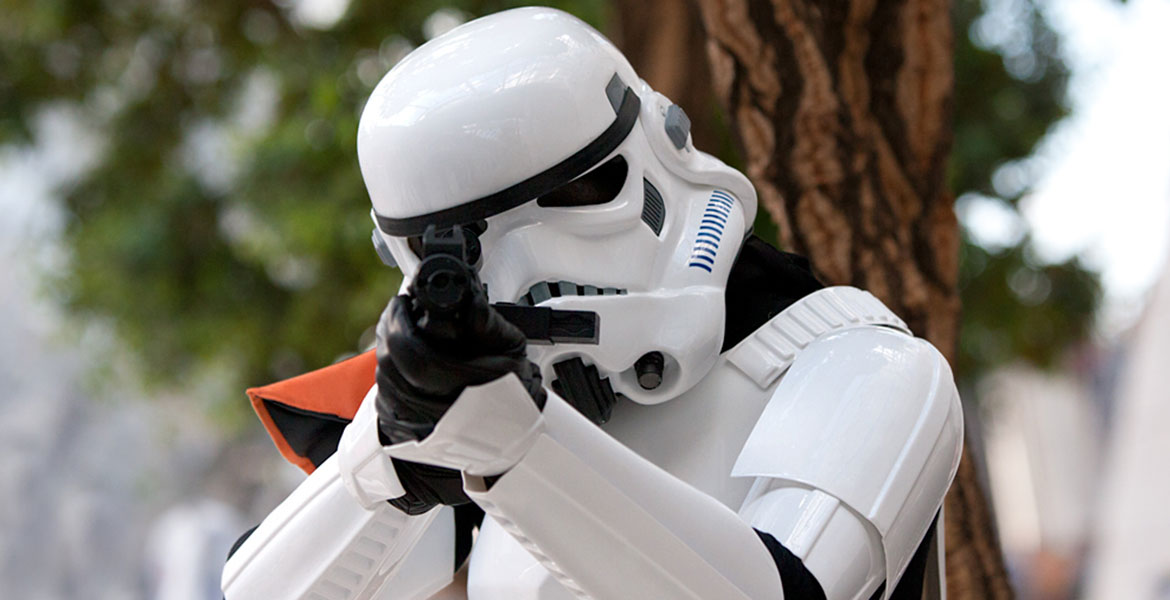 Weapons rules
Prohibited weapons and accessories
Prohibited weapons (and certain accessories) are without exception not allowed (to be carried) on the premises of the Anime Festival Kassel. Should we notice any violations in this regard, we will be forced to exclude you from the event. Should any of you violate the German gun legislation we will need to contact the police. The prohibited weapons include i.e.:
real firearms whether they are loaded, unloaded or rendered unusable
softair guns and gas pistols whether they are loaded, unloaded or rendered unusable
real and similar ammunition i.e. cartridges, hand grenades
cutting and stabbing weapons with sharp or blunt metal blades or with tips such as katanas, swords, shuriken, sabres, machetes, axes, morning stars, etc.
Knives of any kind i.e. flick knives (except for penknives)
Missiles such as throwing stars, throwing knives, etc.
Pyrotechnics and explosive devices such as firecrackers, rackets, etc.
Brass knuckles, slayers, steel rods
weapons to gag other people such as nunchucks
No genuine imitations of firearms are allowed to be carried along.
Complained weapons
During the whole event there will be a "weapon check". Said "weapon check" will examine if your arms can be carried along without concerns in the building of the Anime Festival Kassel. Should you possess weapons that may cause problem we will be able to store them for you. Please note that we will assume no liability for damages or losses and that you should collect your items in good time before closure of the fair. In case we repeatedly catch you with weapons that were objected by us, we will exclude you from the event. These objected weapons include:
imitations or replicas of weapons of which the greater part consists of metal or wood/metal
imitations or replicas of weapons which are longer/bigger than 1.5 m
loose massive metal chains
cutting and stabbing weapons with replacements for blades made out of wood, plastic, etc. (i.e. katanas, swords, sabres, machetes, axes, knifes of any kind apart from penknifes)
rods or pipes made out of hard materials such as metal, wood, tough plastic
riding whips of over 1 m in length, hand whips with a tape measure of over 1.5 m, whips with a staff of over 1 m and a tape measure of over 1.5 m in length
Should you need an objected weapon for the cosplay contest please let us know. We will bring these weapons to the stage for you. Exempt therefrom are of course, prohibited weapons.
Allowed weapons
In consideration of the previous rules, the following imitations and replicas of weapons may be carried on the whole premises of the Anime Festival Kassel without hesitation.
imitations and replicas of weapons made out of foam, rubber, cardboard, soft plastic, wood (not more than 3 cm thick) and thermoplastic materials which are no longer than 1.5 m when combined
LARP weapons ("Live Action Role Play" - foam or latex copies with a stabilized centre in general)
Missiles are allowed if they possess no hard centre and consist of soft, flexible materials.
blunted imitations or replicas of cutting and stabbing weapons
Shields which do not consist entirely of metal, are allowed up to a diameter of 80 cm
Bow without a real string up to a length of 1.5 m
Flexible and blunted spears or arrows
Note! In case of doubt the instructions of the staff of the Anime Festival Kassel must be followed.